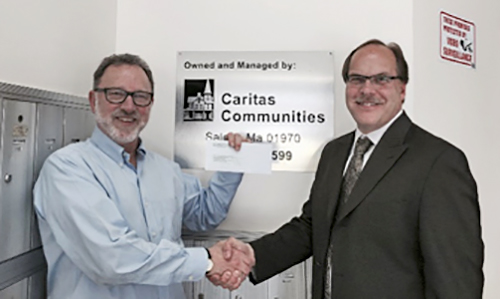 People's United Bank—June 14, 2016
People's United Community Foundation of Eastern Massachusetts, the charitable arm of People's United Bank (Massachusetts), joined recently with Caritas Communities to donate $10,000 to support their Founders First Five Fund.
Caritas Communities has been providing low income individuals with permanent housing, support, and community opportunities for over 30 years. Caritas Communities began with five homes, all triple-deckers in Boston and Quincy, and has grown to 30 properties that provide affordable housing to 895 people. Through this project called the Founders First Five Fund, Caritas is working to upgrade and repair the original five homes, which have never been fully renovated, even upon purchase in the 1980s.
"Caritas Communities is helping families obtain stable homes and futures," said Patrick Sullivan, President of People's United Bank said. "They have been doing incredible work for over 30 years and we are proud to support them continue giving families a second chance."
---