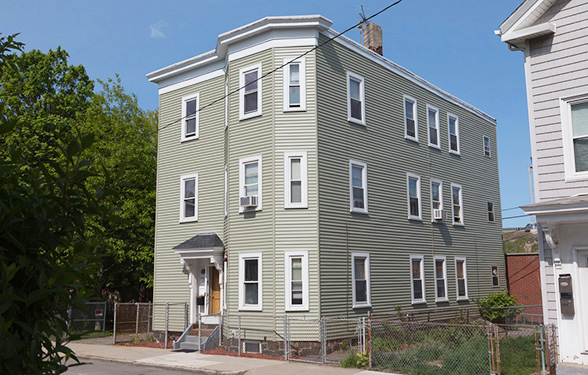 Dorchester: 179 Sydney Street
Address
179 Sydney Street, Dorchester, MA 02125
Number of Units
12
Unit Types

Project-based Section 8 housing
Single room occupancies (furnished or unfurnished)
Shared kitchens and shared bathrooms

Handicapped Units
None
Eligibility
Annual income must be below $20,700
Additional Information

On-site laundry
Dorchester Avenue shops and services nearby
Close to UMass Boston
On the T (JFK stop at door)
Dorchester: 179 Sydney Street
179 Sydney Street, Dorchester, MA 02125
Directions
By Subway. Take the Red Line to JFK stop. Look for Sydney Street or Dorchester Avenue exit sign. Walk downstairs and follow the sidewalk to Sydney Street. Take a left, and walk about 100 yards. It is a light green house on the left-hand side.
By Bus. Take the #8 bus from Kenmore Square to get to JFK Station, or take the #41 bus from the Jackson Square T Station.
In Massachusetts, housing providers are prohibited from discriminating on the basis of race, color, religion, national origin, ancestry, sex, age, handicap (disability), sexual orientation, marital status, children, retaliation, veteran status, or public assistance. If you feel you have been discriminated against in housing, contact The Boston Fair Housing Commission, Room 966, City Hall, Boston, MA 02201 or by phone at 617-635-2500.