Caritas welcomes the following non-cash donations:
Toiletries: Shampoo and conditioner, toothpaste and toothbrushes, deodorant, lotion, soap, lip balm, brushes and combs, feminine hygiene products
Household Essentials: Twin sheet sets (regular length), towel sets, twin bed blankets and throws, pillows, cleaning supplies, dishware setting (plate, cup, bowl, fork, knife, spoon), small cutting board, alarm clock with an AM/FM radio, laundry detergent
Winter Essentials (adult sizes, male and female): Winter coats, hats, scarves, gloves and mittens, warm socks, sweatshirts and fleece jackets, warm pajamas, slippers bath robes
Gift Cards for Essentials: $25 gift cards to local grocery stores, drug stores and laundromats
Furniture: New or model unit furniture
Appliances: New or like-new appliances
There is no donation drop off. All non-cash items must be donated with prior authorization.
Contact Wendy Price, Manager of Volunteer to make arrangements for non-cash gifts:
Wendy Price
781.843.1242, ext. 25
wprice@caritascommunities.org
Save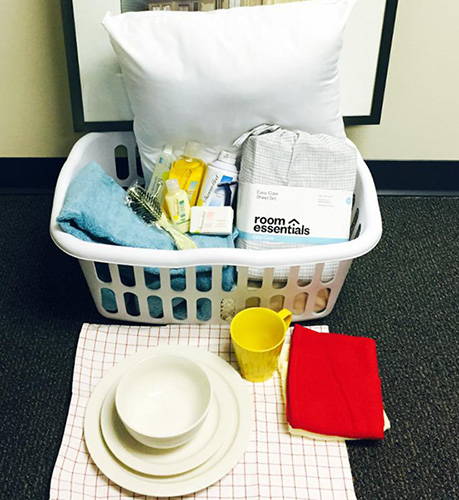 Organize a Team Collection Drive
Build team connections while making a meaningful impact. Organize a seasonal drive at your workplace or organization.