Caritas rent makes everything else workable for someone making minimum wage.
Latoya is 33.
She has been a Caritas resident since July 4th. She works full time at a chain restaurant earning $11 an hour. When she is offered extra hours, she stays.
Latoya's Experience
| | |
| --- | --- |
| Q. | What are you able to afford to eat? |
| A. | It's difficult to figure out on minimum wage. I eat sandwich meat, canned food, TV dinners. I know I need to eat healthier, but it's too expensive for me. |
| Q. | What are some of your other expenses? |
| A. | I help my mom when I can. Sometimes I have to make tough choices between buying food, paying my own bills and helping my mom. |
| Q. | What does your Caritas home mean to you? |
| A. | I love living here. I've lived in rooming houses before, and it's nothing like this. Here, I have my own privacy, and everyone is nice. I'm so comfortable. I have a kitchen where I can cook, and I have a washer and dryer. I love that! I love my bathroom. I love the cleanliness. I feel safe and secure. |
| Q. | Is there anything else you would like us to know about you? |
| A. | Yes, it's been a tough road for me, but I believe if you put your mind to something, you can do it, and that's what I'm doing. I didn't want to be in a shelter. I was blessed to find Caritas and am grateful to share my story as a way of saying thank you. |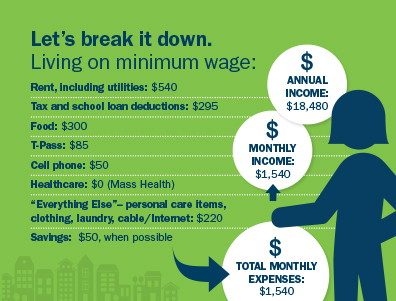 Save
What Caritas offers Latoya for her hard work and limited income is a home she can afford, where she can stabilize and build her future.
For over 30 years, Caritas has been able to improve thousands of lives. Please continue to support us in providing very low-income individuals, like Latoya, with permanent housing, support, a sense of community and expanded opportunities.
Please contribute in any way that you are able.
We cannot do it without you.