The Caritas Young Leader Program came to life three years ago with the objective of engaging young professionals in supporting the work of Caritas Communities through fundraisers, volunteer actuates, drives and ambassador and networking opportunities.
As a result of the enthusiastic volunteer leadership, the Young Leaders Welcome Home Basket program was born. Built around an annual spring event at Tia's on the Waterfront, the Young Leaders have the opportunity to hear from a Caritas resident speaker, who in age is their contemporary. The event raises money to buy the essentials that fill 100 baskets annually, given to our new residents who are living on $20,000 or less annually. The baskets include bath and hand towels, a twin sheet set and blanket, a pillow, toiletries, an alarm clock, a place setting (plate, bowl, cup), utensils, a cutting board and hangers—all delivered inside a laundry basket. For many of our residents coming directly from homelessness or the shelter system, these baskets provide the needed tools for a good night's sleep and the chance to care for ones hygiene. Because of the generosity of our Young Leaders, these residents can begin to rebuild their self-esteem.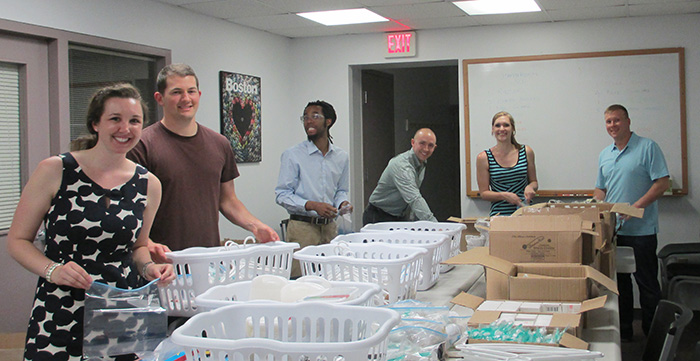 Following the Tia's event, the supplies are ordered and the Young Leaders congregate to assemble the baskets, meet our residents and tour a Caritas home. In addition, many of our Young Leaders attend our Annual Dinner to further support Caritas, feeling a personal connection and the pride that comes with helping Caritas residents.
We look forward to working with this group, creating programs that resonate with their generation and supporting their work through their connections and ours. Young Leader activities will be designed to meet the objectives of the Caritas Mission, benefit our residents and, equally important, satisfy our volunteers.
Save
Save
Activities
Yard clean-up and planting
Painting interiors
Annual Welcome Home Basket assembly
Annual Welcome Home Basket fundraiser
Annual Caritas dinner (at Young Leader ticket price)
Resident holiday drive
Save