Building on the successful Patriot Homes partnership between Caritas Communities and the South Boston Neighborhood Development Corporation (SBNDC), two exciting new opportunities are currently in their formative stage:
206 West Broadway, South Boston
Caritas and SBNDC were also designated as co-developers of a City of Boston-owned infill lot located at 206 West Broadway in South Boston. This small lot will be developed into 16 units of housing and a commercial storefront. During our due diligence, we discovered that the site was contaminated as a result of a dry cleaning business. The City of Boston has agreed to remediate the lot, and we provided the city with our geotechnical studies at no cost. We are now waiting for updates on the City of Boston's remediation efforts.
At the projects' completion, housing units will be available at both properties by income level to low-income citizens earning 60%, 50% and 30% of the HUD AMI (annual median income).
Mary Ellen McCormack Vacant Lot in South Boston
The Boston Housing Authority selected Caritas and the SBNDC as co-developers to construct a 47-unit building designed for senior citizens ages 62 or older. The property is located on the grounds of the Mary Ellen McCormack Public Housing campus in South Boston. We have received zoning approval, and in the spring of 2016, we submitted financing applications to the Commonwealth of Massachusetts and the City of Boston.
206 West Broadway, South Boston
(credit: Google Maps)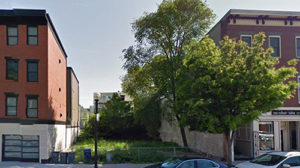 O'Connor Way, South Boston
(credit: Rendering courtesy of Davis Square Architects)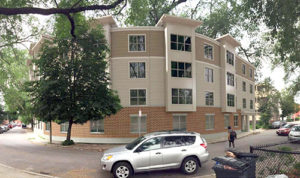 Save
Save