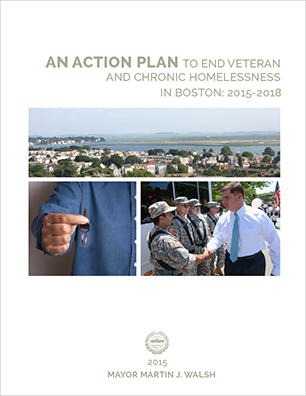 WBUR—Oct. 5, 2016
The city of Boston is reporting good progress in its effort to end chronic homelessness by quickly matching people with housing and support services. But some barriers in the system remain.
Since July 2014, Boston has found permanent housing — with services tied to it — for 717 veterans who were homeless.
In January of this year, the city had 612 chronically homeless people in its emergency shelters. In the last eight months, it's housed 172 of them.
"These are the longest-term homeless folks in the city of Boston," said Laila Bernstein, adviser to the mayor for the Initiative to End Chronic Homelessness. "And when we calculated how many years they had been homeless collectively, we had ended 906 years of homelessness by housing these 172 people. They were homeless, on average, five years or longer."
Mayor Marty Walsh and his administration announced the Action Plan to End Veteran and Chronic Homelessness eight months after the October 2014 closing of the city homeless shelter and state-contracted detox and addiction treatment programs on Boston's Long Island. The programs were shuttered abruptly when the mayor learned the bridge to the island had been deemed unsafe. […] Read Full Article
---
Save
Save